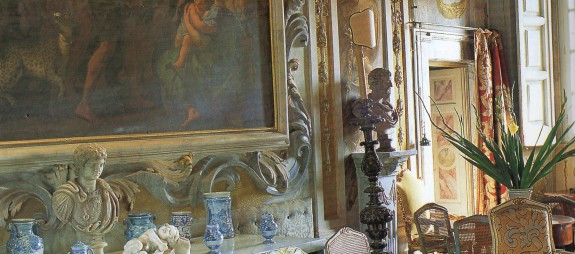 Antique  Italian Furniture :   il Divano
This is the first in a series  inspired  by  previous articles  I published  in Italian about 20 years ago for  Ville e Casali magazine . To help those wishing to  buy antiques  in Italy the vocabulary  is given in both languages. Your comments and questions   by email are welcome. The first two photos, taken at Sarah Bannister's  shop  and luxury B&B in Sutri, are by Corrado Bonomo, 
Of the different types of antique furniture  the divano  ( sofa, couch) is the most undervalued by collectors and the most difficult to place in a contemporary home. Those furnishing a first home usually prefer the relative value and comfort of today's  production. Only newly made divani, they rightly think, can   offer  a wide range of size, textile, price and  availability.
Furniture design has evolved over the centuries to keep up with changes in lifestyle and dress. Furniture for  sitting  and relaxing,  such as  armchairs, benches and divans have become smaller and modeled on the line of the human body at rest.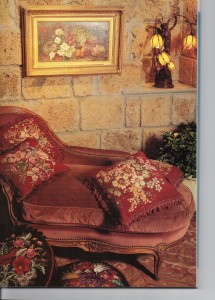 A full skirted lady of the 19th century would find it quite uncomfortable to sink into  a modern low-slung  divano, and  modern day people would find it hard to relax and watch TV perched on a high backed, solidly stuffed divan of last century.
Those built  a century ago give more support to the body since they are higher off the ground and the  upholstery  (imbottitura),   usually of  horsehair (crine di cavallo ), is more rigid than the  ubiquitous foam rubber  (gomma piuma) or expensive duck feathers (piuma d'oca) used today.
What reasons are there to buy a vintage couch (divano antico )?    First of all  to complete an  certain style. For an Art Déco  room what better complement than a suite composed of a  divan and armchairs of the same period? Christie's experts tell us that a  divano antico  has less value than an antique armchair, making for a relatively inexpensive purchase.   Besides being a good  investment , they are also a clever  way to furnish an entrance hallway. With  one fourth the price of a console  or table one can purchase an antique divano.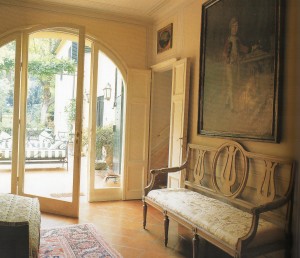 Another reason to prefer an  antique divan/sofa/couch is the aura of Romanticism and importance they add to a room, something lacking in  modern day  production.  When world leaders meet for  photo sessions with handshaking all around, you will notice they always seat themselves on a sofa  or divano. To avoid difficulty in  getting up and a possible minor diplomatic crisis,   those low-slung modern divani  are never used.
  Divano curiosities
At the Italian embassy in Moscow there is a divan located  in a crimson  colored salon with frescoed ceilings. Tradition holds that the German ambassador in  1918, Von Mirbach, was gunned down by members of the social revolutionary group opposed to his pacifist intentions, while sitting  on the original divan.  
Joseph Stalin  must have heard about this. The Georgian-born leader who suffered from arthritis,  found  relief  at the  hot baths  near Sochi where he built a summer residence  known as Zelenaya Roscha. This highly guarded compound is located deep within  a  pine forest and painted   camoflaugue   green. It was a no-flight zone overlooked by guard towers on the nearby hilltop  since  the psychopathic leader   lived in dread of  assassination.  Even the fountain in the central courtyard was turned off at night so any intruder  could be heard .  The short leader (only 5 foot 2 inches)  slept  on a  cot  in his office during the day and   spent most of his free time seated behind his desk or on a custom built leather divan  provided with very high sides  containing  bullet proof  metal sheets .
Before her elopement to Italy with Robert Browning, the poetess Elizabeth Barrett spent most of her days as a semi-invalid lying on a chaise lounge or "lit de repos"  in the family's London home on Wimpole Street. Later at Casa Guidi their Florentine home, the Brownings  spent happy, creative years during which they searched the local antiques shops to find  antique armchairs and divani.
The sculptor Antonio Canova immortalized  the Empire-style divan as well as its owner, Paolina Bonaparte, Princess Borghese, in his masterful portrait  sculpture showing Paolina as Venus. Paolina was Napoleone's favorite sister and  loved to show off her beauty , so she  had no qualms posing for Canova. The sculpture   now  has the  place of honor in the Villa Borghese museum but this was not always so. While he was alive, her jealous husband, Prince Camillo Borghese, kept this marvelous marble portrait sculpture locked away  from public view.
Development  of the divano
The oldest type of  divan was probably a  bench with  a "flippable" wooden back that could be  moved from one side to another allowing one to sit  either facing  the fire or with one's  back to  the fire . There were also  portable  divani,  (divano da campo )a padded bench that could be closed thanks to  hinges. It had  metal legs and was used by  generals during war campaigns, thus  very few examples have survived.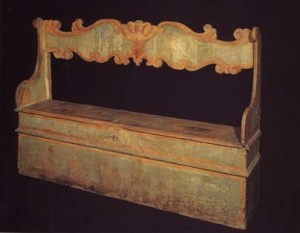 To escape drafts in northern countries   there were beautiful divans and armchairs covered in leather with tall , protruding ear- shaped sides.  Austrian  castles  and English hunting lodges often had  leather  divans with  hinged, moveable ends that could become beds, allowing the hunters to rest and even sleep without removing their boots.
Perhaps the  painted chests like those of the Marche region cannot be considered true ancestors of the divan since they lacked the  comfort of padding or upholstery. They were mostly  used  as containers  for storage since the seats could be  opened. They  were often so narrow that their use in entrance halls and stair  landings  was merely decorative.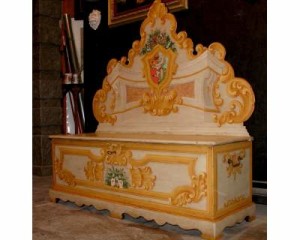 It is more likely that  from these simple  benches and container –type furniture common  in all houses, that the cassapanca  was born and then evolved into today's divan.  In the Florentine Renaissance there were  cassapanche in walnut wood enriched with carved backs and curved arm rests. With the addition of soft cushions they were  comfortable places for sitting and conversation. Beautiful examples are conserved in the  Palazzo Davanzati  house museum in Florence but they are very rare on the antiques market. The Isabella Stewart Gardner Museum in Boston boasts many beautiful cassapanche from Tuscany and central Italy.
One must wait until the mid 17th century  for the invention of true divans with upholstery and covered with  textiles, including Aubusson tapestries.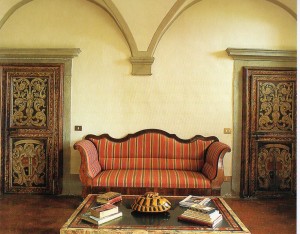 Today one can admire  examples of Venetian divans at the Isabella Stewart Gardner Museum in Boston and the  Correr Museum in Venice, similar  to those 18th century ones that decorated palatial  Venetian palazzi.  They are made from  carved and lacquered  wood and could have up to ten legs.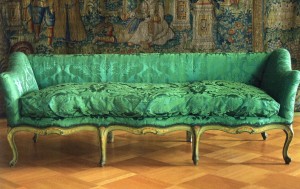 Due to the difficult life and use to which they were  subjected, antique divani in very good condition are considered very rare.  If you are tempted to buy one do not be afraid of the condition of the upholstery and textile covering. Rather give a good look at the wooden frame  to be sure that it is still in a robust  state. A good restorer and new upholstery  can  give an antique divano  a second lease on life.
A very comfortable  leather  divan with that highly desirable  "lived in" look.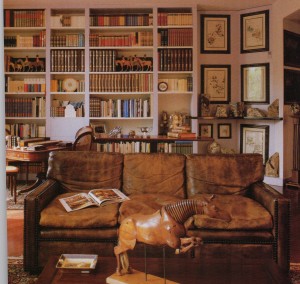 Coming  Soon : Letti Antichi         Antique Beds
Armadi Antich     Antique Wardrobes