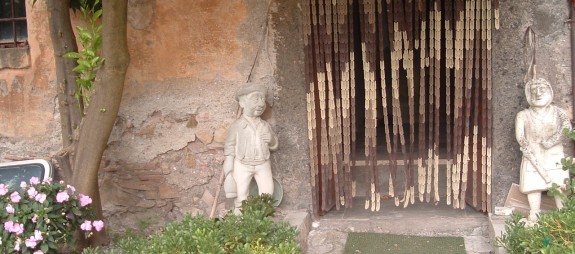 From the times of the Caesars when copies of Greek statuary were imported to enrich the Empire's private villas and public palaces, Rome has always been the capital of antique collecting. The many obelisks that spike Roman squares and the delicately incised ring gems seen in museum collections are also testimony of the Roman-and Italian- love for precious art objects large and small.
To help prospective buyers of antique "objet d'art", here is a quick outline of Rome's antiques market with hints on how to overcome the language barrier and  where to find the best shops and trustworthy dealers.
There is no substitute for leisure time for searching, for appreciation and understanding of antiques or for knowledge of prices in your field of interest, but if you are prepared you can find excellent buys in the city's many shops dealing in antique furniture and works of art.
Streets given over to the antiques trade are concentrated in different parts of the city: the first and perhaps the best known since it is part of the regular tourist route, is the Via del Babuino-Via Margutta area near Piazza di Spagna. Most of the shops in this area are on an international level which means that the prices and objects for sale are top of the line. Some of Europe's oldest and most esteemed antiquarian dynasties –names like Di Castro, Antonacci, Efrati, Apolloni, Fallani (classical Roman objects, Roman coins) are located in this area. A walk by their shop windows can be a breath-taking experience for that well known Roman flair for decoration is evident in the window arrangements, as it is in the selection and placement of furniture and art objects inside the shops. The walk is also breath taking for another reason: Via del Babuino has very narrow sidewalks and via Margutta has none so watch out for weaving taxis and Vespas zooming along at breakneck speed.
The second antiques zone is in a quieter area of Via Giulia and its parallel, Via di Monserrato together with the smaller intersecting streets.
There are galleries filled with 17th ,18th and 19th century paintings, art deco or Liberty objects, custom designed furniture, fine antique cufflinks and watches, as well as second hand dealers or "rigattieri". Restorers, gilders and other craftsmen working alongside the antiques' trade can be found here too.
The daily outdoor market of Piazza Fontanella Borghese is the venue for small objects, books and prints sold from a dozen market stalls. Other "flea markets" sprout up during weekends in various parts of the city, but Fontanella Borghese is a stable market with a long tradition.
Nineteenth century furniture and decorative art can be found in the third area near Piazza Navona and Via dei Coronari where many shops specialize in this period. You can combine browsing for antiques with sightseeing on Via dei Coronari ("street of the crown or rosary bead makers ") especially if you are interested in architecture. There are imposing palaces such as that of the Lancellotti family, a beautiful church with neighboring cloister garden of St. Salvatore in Lauro and they say that no 122 used to be the home of "beloved painter", Raphael. Shops keep evening hours in late spring to encourage visitors to stroll, browse and hopefully buy.
More stories about antiques  on  my Blog:
use the SEARCH  button  to find more  articles