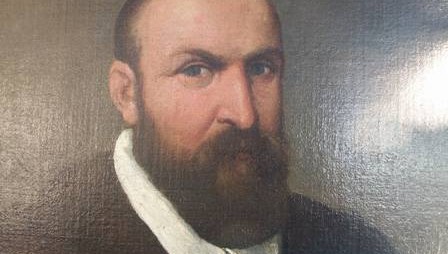 Cortona's Antiques Fair  can rightly be considered the mother of Italian antiques fairs.  Begun in  1963 to  act as a launching pad  for the town's flourishing  restoration and furniture reproduction business, the  show was dedicated to the "mobile antico" or  antique furniture  but over  the years it  has expanded  to include art works, jewellery and other  branches of the antiques world.
Held at the elegant Palazzo  Vagnotti, the show & market was-and still is- the show place of Central Italy's  top antiques dealers.
Looking back at the colletion of the show  catalogues  in my library I realize that the annual visit to Cortona was always more than just a chance to admire (and dream about buying) antique furniture and art works. The catalogues were also tomes of knowledge full of helpful information.
The 1970 catalogue with its 260+ pages of illustrations shows the prize pieces of 48 exhibitors –the crème of centralItaly's "old timers". From Rome Rosati & Terenzi, Venturi & Spada both with shops on what was then the busy hive of Rome's top antiquarians – Via Giulia.  Arezzo's legendary Ivan Bruschi, after whom the Foundation Ivan Bruschi is named, wrote the preface .
The catalogue of the 10th Antiques Show, in 1972,  weighed in with a hefty  380 pages and was enriched with a  selection of articles  on Cortona Etrusca by Paolo Bruschetti and the Palazzi of Cortona  signed by local priest, Bruno Frescucci as well as a poem of Gabirielle D'Annunzio   "La città di silenzio" in honor of the city of Cortona.
In the 1981 catalogue is prefaced by enlightening articles on the Etruscan smile, the musical chapel of the cathedral of Cortona, and the city laws for the year 1325.
For the  22nd   Antiques Fair,  in 1984, the catalogue featured   Mario De Filippis vast collection of ex libris, those beautiful minor  little  art works which decorate the frontispiece of our books.
The 27th edition of the show in 1989  saw an interesting  monograph by Umberto Rossi on Luca Signorelli   and the previously unpublished sketchbook of Giovanni Fattori, "Ricordi di Rome1884"
Thumbing through the pages of illustrations depicting elegant chests of drawers, 19th century mahogany tables, sculptures and paintings prompts the question:  how many young couples visit the antiques shows today looking for special pieces to help furnish their first home?
Or is the IKEA catalogue now  preferred reading?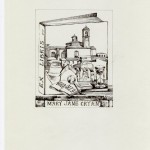 A word of advice: do not be surprised when the cheap factory-produced  kit  furniture falls apart after a few years of use, a couple of kids and house moves. The antique chest or cupboard will remain and increase in value as the years go by and can be considered a far better investment than bonds or money in the bank.  Antique furniture and works of art are investments that you can admire as  you use them to furnish your home.
More antiques and vintage on my ETSY shop "Vintage and Books" Vintage and Books
Visit it now by clicking on the link.