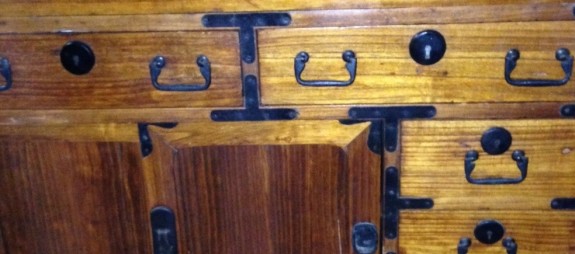 It is a common misconception  that antiques must necessarily cost a great deal and the idea of buying an  antique piece  of furniture must not enter one's mind when decorating a house or apartment.
Last week I witnessed  an incident which proved that the opposite is true- that free time for looking, reading and getting what the Italians call  "occhio"  can take the place of a fat bank account.
Among the green hills of mystic Umbria there are many ancient monasteries and convents, now empty for lack of monks and presently being transformed into a chic  holiday  home.
While showing me around her part of the renovated monastery, an acquaintance apologized for the furniture. It was that factory-produced blond Swedish type which made a pitiful contrast with the ancient cotto tile floors and thick monastic white walls.
"We did want to buy some antiques, but they are so expensive", she said,"and then we would not even know where to begin to look for them".
From a window  we could see the workmen dumping a wheelbarrow full of rubbish onto one of those heaps which form wherever building or renovating are being done.
We were surprised to see a young couple, new owners of another part of the 13th century convent, poking through the pile of old doors, broken bed springs and other junk that the workmen had been carrying out for the past several weeks.
Surprise turned to jealousy when my acquaintance later saw the same couple busily cleaning the prize they had snatched literally from under her nose, a rustic  18th century monk's bench.
Once a  wobbly leg was  repaired and the patina  of age restored to the fine wood, its simple but elegant lines would fetch  a good price  in any country antiques shop.
Next time you are exploring small towns and back roads in Italy, keep an eye out for  those  cellars and attics where families store castaway  furniture ( cantina, magazzino and rigattieri ) . You never know where a prize piece  will  be stored   away, just awaiting   a new owner .
interested in antique naval objects and furniture? Send for list of   available pieces for sale.