Guide to Rome's Flea Market – Porta Portese
July 10th , 2012
Tagged with: Trastevere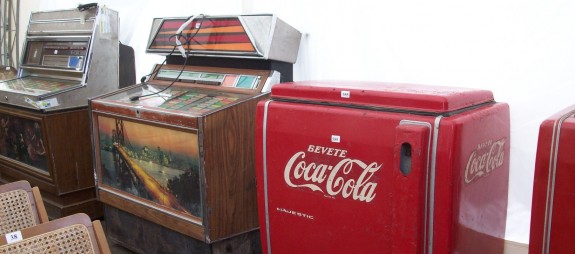 Every Sunday morning for the past 50 years the network of streets in the Trastevere section between Viale Portuense and Viale Trastevere is transformed from a normal neighbourhood into one huge mass of tables and stalls with over 900 vendors selling everything imaginable; new and used clothing, plants, pets, tools and bicycle parts, fake Etruscan pieces and Roman bronzes as well as some genuine antiques.
If you are looking for blue jeans, household goods or auto parts try the riverside entrance at Piazzale Portuense where eager buyers stream under the famous Roman porta that gives the market its name –Porta Portese.
If instead it is the rare, old and unique you wish to track down, make your entrance from Viale Trastevere at Piazza Ippolito Nievo.
The antiques section runs along both sides of tree-lined Via Ippolito Nievo, Via Parboni and adjacent streets where the sharp-eyed collector can find Fascist era mementoes, nativity figures, attractive imported items, Depression glass and all kinds of collectables. Parking in the area is virtually impossible so catch any bus running down Viale Trastevere to the Nievo piazza or take a taxi there.
The first stop in Piazza Nievo is at the numismatics dealer with his table full of Roman and foreign coins, mosaic brooches, old cameos and carved gemstones.
If you are in a decorating mood there are dealers of Indian antiques with a wide selection of metal and wooden pieces recuperated from decaying palaces in northern India.
Nearby a few bancarelle offer botanical, costume and decorative prints, landscapes and 19th century maps as well as old books. Needless to say, discounts are offered (don't be afraid to ask) for quantity buying.
Only a fraction of the once large Russian (also Polish, Moldavian, etc.) contingent is still working the market with their linens, camera parts, bits of Baltic amber and some questionable icons. They have been replaced by importers from other countries, especially China.
From Indonesia there are wood carvings of plants and exotic birds in bright primary colors that make attractive decorations for kids' rooms.
Between a carpet dealer and a table filled with sequinned slippers and incense sticks you can find heaps of necklaces in semi-precious stones such as African malachite, tiger-eye and such at good prices.
Just before Carnival time costume hunters can be seen digging through heaps of cast-off costumes, old hats, battle gear, red-buttoned cassocks and the like to come up with original fancy dress without spending a patrimony.
The labyrinth of streets around Via M. Bezzi and Via Musolino calls for a lot of stooping if one wants to take a good look at the ephemera spread out on the tarps.
Next to old passports, yellowed letters, vintage photos and postcards one can find new discounted art books and a selection of old clocks.
This is the way things were (and still are) bought in the days before e-bay. Here the prospective customer can see, touch, ask prices, bargain and then decide to buy.
Returning up the other side of Via Bargoni there is a table dedicated exclusively to buttons of all colors, shapes and sizes and another devoted to minerals and fossils.
Here one can find marble and stone in every imaginable form: tiny pyramids, eggs, balls and obelisks like those featured in glossy decoration magazines.
The connoisseur's next route runs along the two sides of Via Ippolito Nievo.
In this sector there are English oak tables and dressers, cane kitchen chairs and wardrobes too big and too battered for most people's tastes.
Turn of the century bedroom sets and leather divans that have seen better days are all there for the asking and bargaining down of the prices. It is here that you can find replacements for glass lamp shades, brass fittings, keys, towel racks, amusing and decorative bits and pieces, picture frames, plant holders, old linens, colourful Colombian terracotta figures and much, much more.
Remember there are three golden rules for Porta Portese – dress comfortably, go early and keep your money safely stashed away for Porta Portese is also pick-pockets' paradise. For more antiques to buy check the Antiques Gallery here or my Etsy shop  VintageandBooks.
If you are looking for something specific, feel free to contact me for help,recommendations.