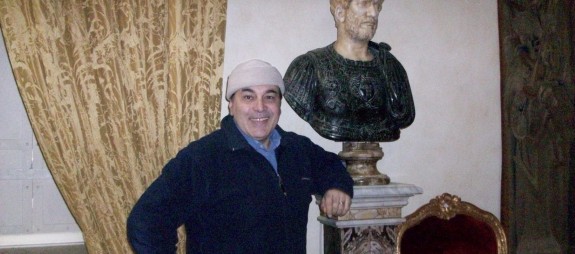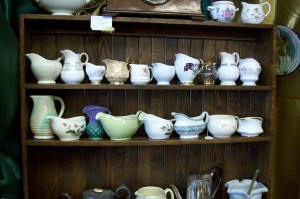 That  old  proverb "one man's junk is another's treasure" is very true in the Viterbo area as the recent visit of Australian friends proved. When we visited the yard of  a local rigattiere who makes a living cleaning out cellars and attics, the ladies happily spent a few hours browsing among his  stash  and paying well  for the old vases and  knickknacks which  they considered precious antiques .
Our  visit to  the junk dealer reminded me of the 1970s when Rome's antiques dealers combed the Viterbo area for used  furniture they would  restore and offer for sale  at  a 100% mark-up in Via Giulia, Via dei Coronari and Via di Monserrato's  chic  antiques galleries.
Viterbo was a  perfect  place for a weekend antiques hunting expedition for the  80 km distance  from Rome was  like  time machine travel with as destination  a different, less expensive and complicated  world . Even  the traffic on  the Via Cassia was slower for the presence of  farm wagons and tractors.
One of the thousands of old  auction catalogues I conserve, dated 27 Nov-5 Dec 1970, illustrates the furnishings of Castello Vinci in Cura di Vetralla : carpets, paintings, ceramics and arms collections,  which were sold by auction. A magnificent sculpted chest dating from the 1650's  could be purchased then with a mere 300,000 lire.  But auctions were a rarity in the area and most young couples wanting to furnish a first home, in those pre-IKEA days, searched the rigattiere  or junk shops  for solid but  inexpensive  used furniture.  One of these  rigattieri , DM, had a showroom in the medieval San Pellegrino quarter but  kept larger pieces of furniture  in cave like  storage areas outside Viterbo's medieval  city walls .
These grottos were stuffed with antique church furniture, cupboards, madie (for making bread), kitchen furniture and lots of broken, rush bottomed chairs. It was the Swinging Sixties and  local families were eager to exchange boring wooden furniture for brightly colored fitted kitchens in  Formica .
In one of DM's cantine we saw  a sculpted chest  similar to those going at auction, its two bronze handles and coat of arms showed a noble provenance and the price, by Rome standards, was very low.  Just like IKEA today,  it was strictly  "cash and carry" so we hauled the chest onto the  top of our tiny Fiat 500, strapped it on and covered it with an old blanket. It was  slow travel back to Rome along the Via Cassia  through Vetralla, Capranica and Sutri. Whenever we stopped for a coffee and to check the ropes, a knot of curious local fellows stared at our load and we replied to their curious glances that it was " grandfather's casket" we were transporting.
"Rustico" furniture  was all the rage in the glossy  magazines in the 70s-80s and everyone wanted  chocolate colored cupboards for their city dining rooms.  A madia used for bread could be found at MV's barn in Campagnano for 30,000 lire which then became 130,000 lire after a complete restoration. This included scraping away  numerous coats of paint, one for each generation  that had used the madia for leavening bread,  then  staining the wood a darker color.
Only in the mid 1980s did the real value of old furniture began to be understood and the first Antiques Show was organized in the prestigious venue of Viterbo's  Papal Palace.
The importance of the Antiques Fair can be judged by the catalogues published: the first edition of  1980 was  a thin brochure with black/white photos listing  39 participants.  This was followed by a  fancy catalogue and by the late 90s they had evolved to  full color  volumes  with plasticized inserts.
For a dozen years the Antiques Show was relegated to a modern exhibition center out in the countryside but last year it   returned to a suitable venue in the city center: the  lovely ex-convent  of St.Teresa in Piazza Fontana Grande.
History comes in waves so  we should not be surprised when our daughters start  wearing the 1950s sunglasses that once belonged to  great grandmother and the  old chest of drawers is taken down from the attic and given the place of honor in a modern living room.