Original sketchbooks of Ludovico Caracciolo: Roman countryside, castles
February 13th , 2019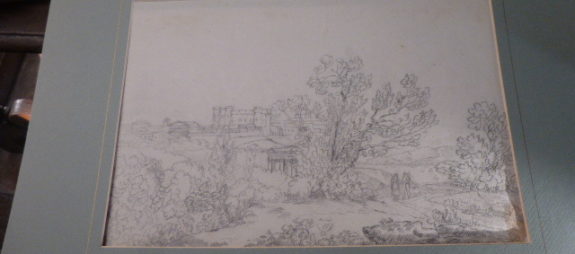 One  of a series of original  antique (over 200 years old)  designs from artist Ludovico Caracciolo's  (1761-1824) sketchbooks .   Measures  32 x 45 cm , complete  with passpartout.
Other small sketches appear on rear and  right margin. Authenticity  and provenance  assured: see article "Designi Pellegrini"  on Biblioteca e Società  magazine and  chapter  "Rediscovered Sketches of Etruria"  in  "Etruria travel, history and itineraries in Central Italy", p 110.      Approximate date  1790.
Send me a message for more information and pricing . The other designs  from the set include Rome Capitoline Hill, Villa Borghese park,  Allumiere, Castel Gandolfo, Tarquinia(Corneto) .