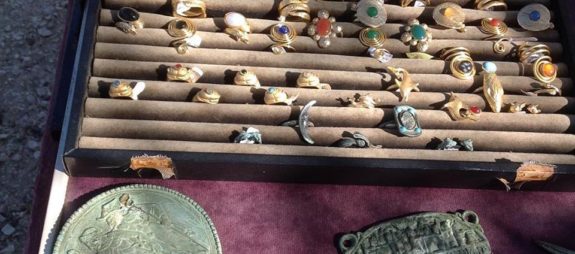 The big bargains of old may be gone, but the excitement of the search remains at Rome's colorful Sunday morning flea market.
Porta Portese is not like  other Italian open air markets, it is a Mecca for those searching for unusual, inexpensive vintage and antique objects. It should not be snubbed by  lovers of antiques and collectibles, but embraced as the Grand Dame of flea markets.
It is the place to go if you  collect ephemera, paper objects, old books, post cards and the like. You will find  objects from the  early 1900s, grandparents' clear-outs  and memorabilia from the Fascist era .
Among the possible, interesting  finds: rarities in old  phonograph records, antiques and first editions of books in English and Italian, Victorian lamps, costume jewelry, designs and "stampe" of the 19th-20th centuries.
Rome's giant Sunday morning flea market was once – in the days before Ikea -an institution for young people looking to  furnish a first apartment on the cheap.
The big bargains of  decades past may be finished  and only an expert can hope to find an 18th century Delft tile, but there is still the excitement of the hunt with a thousand possibilities in the air every Sunday morning.
In the past TV personalities,  politicians and international business men could  be spotted among the  early arrivals, often disguised with a hat and sunglasses as they scoured the stalls before the tourists arrived. Antiquarians  regularly scout the market looking for old locks and keys to replace those missing from the furniture they have in stock. Here they can choose from an abundant and inexpensive array.
Dated brass and bronze plates, old silverware, chipped plates or entire  porcelain dinner services are a usual find.  Watch out for "authentic" Roman coins or Etruscan pottery and  forget about buying an original Rolex. In the past the market was a well known place for petty thieves to get rid of their stolen wares.
Dealers will not give out receipts for your cash nor write a guarantee testifying to the century, style or author that they vociferously proclaim. Here it is strictly cash and carry ."Sconti" or discounts are still possible and easily conceded to those who purchase  a quantity of pieces.
Rules to follow to enjoy the experience: Rule  no. 1  is to  dress down, try not to look like a tourist.  Porta Portese is a favorite spot  for pick pocketers.
-Be extra careful on the bus to and from the market.
-Carry a supply of plastic or cloth shopping bags in case of lucky finds
-have cash in small denominations and watch your back and your wallet or purse.
-Better yet, leave the purse at home and  carry your cash in a  zippered inside pocket of your jacket.