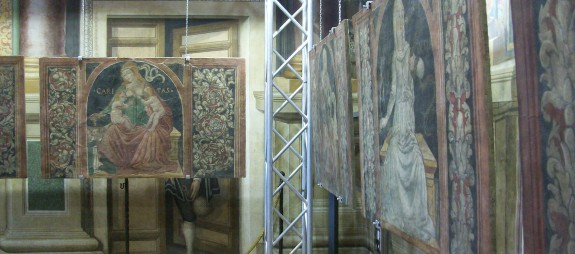 Have you ever dreamed of  discovering  something rare and beautiful at an antiques fair?
This is what happened in  October when an art expert discovered a precious  15th century fresco cycle  showing  the 14 virtues while visiting  a Rome antiques fair.
(click on images to enlarge)
Painted by an unknown artist  between  1470-80, the frescoes had been  removed  from  Palazzo Spreca in Viterbo  and put on the   antiques marketplace.
Prof.  Enzo Bentivoglio  of Reggio Calabria university, told of how he had  recognized the paintings immediately.
"As  a child I often  visited  Palazzo Spreca  with my  grandmother  for in the convent there  the   nuns did embroidery work."
" I remember  being very impressed with the frescoes on the walls showing women and animals".
Recently Prof. Bentivoglio  saw these frescoes  in a very different  context: four of them  were  being exhibited  (and for sale  at an undisclosed  price) at the  stand of an Umbrian antiques dealer during the biannual Antiques show held in Rome's  Palazzo Venezia.
You can still see them   on the dealer's  website.   They had also been in  a similar antiques fair in Modena back in 2011.
Thanks to a  denunciation made by the Professor to the police, the precious works were  blocked from being sold  and later returned  to the City of Viterbo where they are presently  being exhibited  in the City Hall until January 7th.
What happens to them after  this date  must still be decided: will they be returned to the original owner or placed  in one of  the city's museums?
I recently had the privilege of speaking with Chief Inspector (Ispettore Capo) Felice Orlandini  of the Palazzo di Giustizia of  Viterbo  Province who  followed the entire  investigation taking on himself the responsibility and executing   on-site  visits, searching  through and photographing the building  and finally finding the room  from which the frescoes  were  taken.
Since the investigation is on-going, he could not give me any particulars that I can publish, (yet),  but it seems to be another case of  avidity  and irresponsibility …which so often happens in  the world of antiques, especially in the provinces like Viterbo.
More antiques and vintage on my ETSY shop "Vintage and Books" Vintage and Books
Visit it now by clicking on the link.