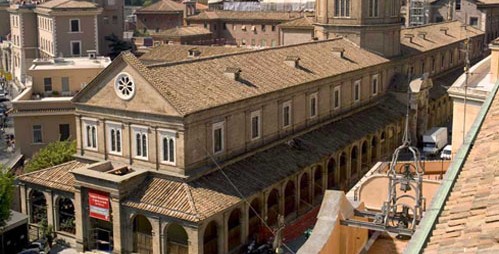 The  majestic complex known as  Santo Spirito in Sassia sits along the Tiber close to  Vatican and Castel Sant'Angelo.
It  has a long history, from  hostel for  Saxon pilgrims  arriving to Rome in the  early middle ages, it was rebuilt during the Renaissance by  Popes Sixtus IV (1470s) and Pius V (1570s) to become the most important -and most beautiful- hospital  in the Eternal City.
Designed by  major architects and decorated by the best  artists of the day, the complex of buildings  has undergone many  transformations over the centuries, but the beauty of the architecture has endured, making it the perfect venue for  Rome' major Antiques Show and Market.
What better  way to  learn more about art and antique furniture than from the dealers themselves. They are there not just to show off their wares, but  to inform visitors and answer questions from novices as well as expert collectors.
Remember also that prices quoted are generally negotiable and the vendors have more expenses at such as show, making the show's last days the  time  they are more likely  to give a discount.
With so many beautiful  and important objects of art on show there is the danger of "art  indigestion". One way to avoid this is to pretend you have a budget and can only choose  ten ( or 20 or 30) objects from the entire array.
More antiques and vintage on my ETSY shop "Vintage and Books" Vintage and Books
Visit it now by clicking on the link.
Here is a gallery  (click on the photos  to enlarge) of my  personal  favorites among the antiques and  works of art being exhibited by vendors from  all over Italy, with a sprinkling from France and Spain.