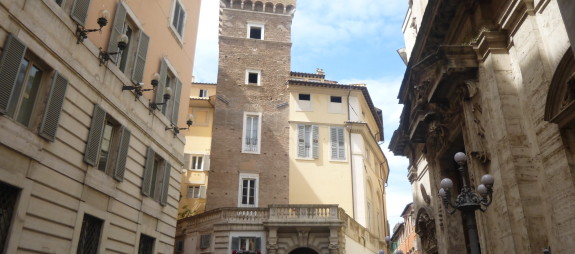 Searching for antiques and handcrafted  jewelry in Rome? Just take a stroll through Rome's side streets  from Piazza di Spagna to Piazza Navona  and you will discover the top shops and  artisans.  Itinerary: from Piazza di Spagna,Via Condotti, Piazza Fontanella Borghese,   Via della Scrofa,  Via dell'Orso,  Via Coronari  to Piazza di Montevecchio
Click  on the photos  to enlarge
To enjoy the most  elegant side of Rome, one must stray  beyond the tourist sites following  the shining window displays  of Rome's  antiquarians and artists in gold and silver.
Begin your walk from  the Spanish Steps, past  the gleaming displays of  big name  jewelry shops such as Bulgari and  Eleutheri  and  designer clothing shops where husky security men standing behind the display windows can be mistaken for mannequins.
The first stop is Piazza Fontanella Borghese  where minor antiques can be found  and then swerve over to Via Tomacelli towards the Tiber River, where the modern Ara Pacis complex and fountain can be admired.
From here turn  left along Via di Ripetta, where  the newest  location  of the Franchi family's  jewelry  laboratory and shop  is now located.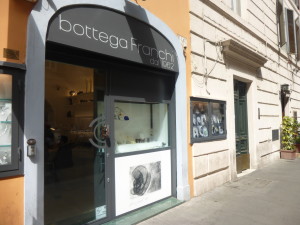 Fausto Maria Franchi has been creating magic objects  in Rome since 1962, and now son Enrico  is taking over most of the business  and can be commissioned to create  bespoke pieces of jewelry .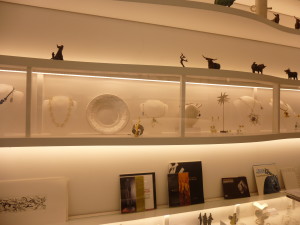 Here  are the wax models of pendants  that he  designed for me  to use two ancient  Roman silver coins  .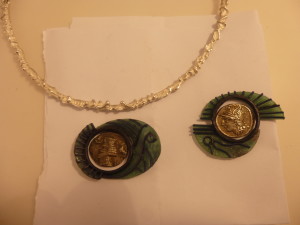 In a few weeks  the silver pendants will be ready, after  fusion  using the  lost wax technique.
Ancient traditions, ancient coins merge with modern   sculptoral settings to make  unique  pieces.
The Via della Scrofa and Via Ripetta area are a paradise for window shopping with a plethora of  elegant clothing and furniture shops as well as   gastronomy shops.
At the intersection of Via della Scrofa and Via dei Portoghesi stands  the Torre della Scimmia, immortalized  in Nathaniel Hawthorne's  novel "The Marble Faun".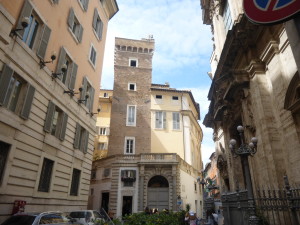 Here, at the beginning of Via dell'Orso is   another historic Roman jewelry workshop: that of   Massimo Maria Melis where he has been interpreting  Roman, Etruscan, Byzantine and medieval style jewelry  for over  40 years. Some of the materials he uses besides gold are Roman glass, coins, mosaic and enamel.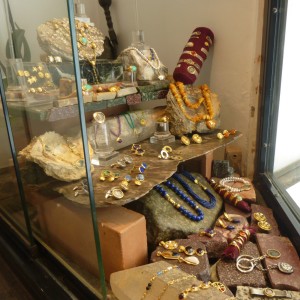 The shop windows, art galleries and  architecture   along this  antiques and jewelry itinerary   express the best in  Roman taste: elegant eye candy and delightful objects  fill each of the shop windows  and galleries.
Via dei Coronari  is another  (usually) pedestrian street where one must keep a watch out for  scooters while  window shopping.  Only a few  artisans  still work in the neighborhood which has become gentrified  over the past few decades, with numerous  wine bars, trattorias and highly priced real estate.
If you liked this you might enjoy the  antiques articles  (use the search bar)  on my blog- 50yearsinItaly .  Do like the Romans do and leave  the big city on weekends and during the searing hot  summer.
My books about the area north of Rome will give you  insider access  and information about where to go, what to visit.  Order directly  from the website contact page.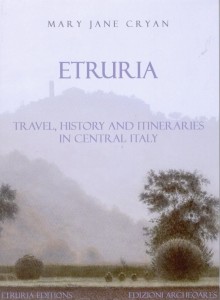 Antiques and collectibles  are less expensive  in the country towns north of Rome.