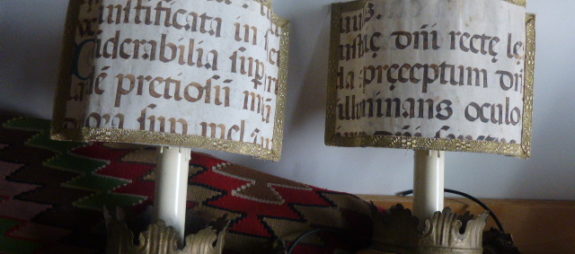 Rarely  can you find such  unique, one of a kind,  antique lighting fixtures. 
This couple  of scones (appliques in Italian ) were commissioned  to Rome's famous lampshade (paralumi ) maker, Tullio Senzacqua  in his laboratorio artigiano  on via dei Pianellari, near Piazza Navona, back in the  1960s. 
 The shades are fashioned from  handmade and  inscribed  parchment dating from  the 1400s.   The base is a combination of  sculpted and gilded   wood  topped by  a hand wrought  metal "crown".
The electric  wiring has been updated and  ready  for modern led bulbs.  They are ready to be   hung up on a wall  using the original  metal  brackets.
Measurments:  height  50 cm.  Width of lampshade  37 cm.   Perfect condition. Contact me  for price, shipping information. Can also  be found on my ebay page.