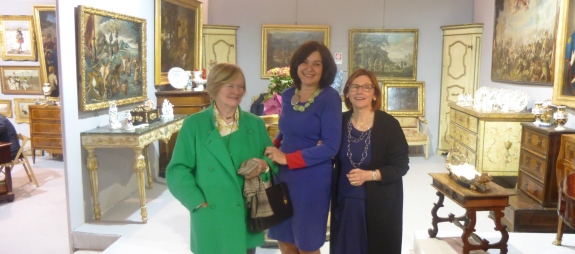 More antiques and vintage on my ETSY shop "Vintage and Books" Vintage and Books
Visit it now by clicking on the link.
After  many years  the Viterbo Antiques Fair has finally returned to its original seat-the prestigious  Papal Palace – a worthy setting for the magnificent pieces exhibited and  group of high level dealers  gathered from all parts of the Italian peninsula.
For  a view of the opening ceremony  and more photos  see my  recent blog post 
 http://50yearsinitaly.blogspot.it/2015/03/antiques-show-in-viterbos-papal-palace.html 
Archeoares, the young equipe who manage  the Museum complex  (Duomo, Museum del Colle and the Papal Palace ) are in charge of the ticket counter and overlook the security and give the Fair a youthful presence. The  Fair  is spread out over three levels of the ancient palace  with well designed stands offering  visitors an wide view of  antique objects and how they can fit in today's home.
Classic furnishings, art , paintings,  mirrors, maps and prints, as well as  art deco,  1930s ceramics and  lighting fixtures from the   1950s: something for every taste and budget.
The older generation of dealers  manned the exhibits during the quiet weekdays, while  enforcements from the younger generation were on hand during the weekends  as  larger crowds of visitors descended  from nearby Rome.
Visit the official website www.viterboantiquaria.com  for  exhibitors list and information.