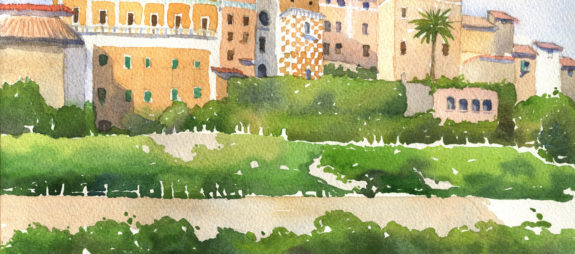 Il Palazzo Dipinto/ The Painted Palazzo  is the  seventh volume  about  the Tuscia Viterbese    by  journalist and historian Mary Jane Cryan .
 It contains  new research  uncovered in the last few years,  English and Italian for the  general public.  Limited edition. 
FULL COLOR    circa  130 pages, index, bibliography. 
Preordered  copies (before   May  15)  will receive a discount (12   10 euro ) Discounts for multiple copies for schools, hotels, B&B, associations .  Use contact page  to order. Payment with paypal. Postage, shipping  2 euro to Italian addresses.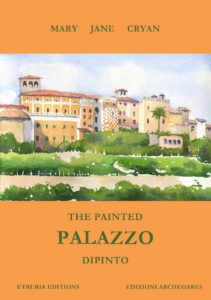 Sta per uscire il nuovo libro  di Mary Jane Cryan. E' la settima pubblicazione  dedicata alla storia e cultura della sua patria  d'adozione. Contiene  ricerche  inedite come quello  su famiglie  piemontesi  e artisti di fama mondiale che  hanno edificato palazzi con  giardino  fra il 1890 e il 1915.  E' una  storia  che si ripete da sempre  iniziata  dalla famiglia Farnese  e da altre  nobili  famiglie nel Rinascimento.
Titles of chapters               Capitoli
The Painted Palazzo-Il Palazzo Dipinto: due famiglie  piemontesi – Piatti e Canonica-  a Vetralla e nel Lazio: i personaggi, le case, I giardini, i misteri
New Discoveries of art and history in Vetralla-Nuove scoperte d'arte e storia a Vetralla
Foreign Visitors  discover Ferento-Come I viaggiatori  stranieri hanno visto Ferento
Mysterious Museum Graffitti –Graffitti misteriosi al Museo
Sconto per  ordini  fatte prima del  15 maggio.  10 euro invece di 12. Spedizione   2 euro  a indirizzi italiani. Pagamento paypal.  Sconti per multiple copie, per scuole di lingue,  per agriturismi, B&B, scuole, associazioni.