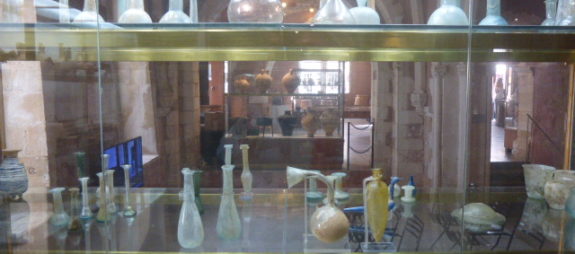 Click  here  to see   my Cruise  enrichment  profile  http://www.cruiseshipenrichment.net/speaker.asp?ID=39343127 
Azamara Pursuit      October 10-28 
Greek Isles, Malta  and Italy
It was the maiden  season for  new ship Azamara Pursuit and  its  lovely crew including Cruise Director Amanda Poulson   flanked by  Lee  Hetherington,  Assistant Cruise Director.  We sailed out of Venice after a lovely day and evening  exploring the city with daughter  Laura who came over from Milano.
I was pleased to do the sailaway commentary from Venice and  had  more than 300 guests at my  first talk in the Cabaret Lounge. Its proof  that passengers  really care about the itinerary.
Also in Kotor, Montenegro I was on the bridge giving  sailaway commentary as we sailed through the narrow passage  of the Boka Bay back to the Adriatic Sea.
Ports  were  Venice, Kotor, Corfu, Katakolon, Gythion, Santorini, Heraklion, Patmos and  Mykonos .
In Piraeus  we had the pleasure of lunching  with Erika   at a local trattoria near the port before the second  cruise.
 Ports for the second cruise: Piraeus, Chania, Valletta, Siracusa, Giardini Naxos/Taormina,  Amalfi, Naples, then home to a very rough sea in Civitavecchia.
Azamara  Cruises  in August  2018 
Amalfi and Dalmatian Coasts
Civitavecchia  to Venice   August 11-19
———————————
Dalmatian Discovery
Venice  to Venice  Aug 19-26
Azamara   Cruises in    August 2017
August on Azamara means warm days in exotic ports, a salt water pool  to laze in, meeting wonderful people and enjoying the company of people from all parts of the globe.   It was a working holiday with   numerous  enrichment lectures  presented and  several  commentaries from the bridge  as we sailed in and out of Venice during  three cruises ( Aug 13-30).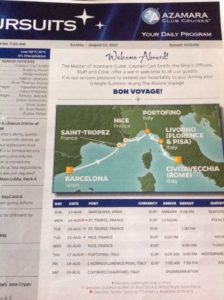 Among the topics covered in Enrichment Lectures:
The Heart of Tuscany-Livorno, Florence and Pisa , Rome before the Romans-who were the Etruscans ? The Many Faces of Dubrovnik
On the second  cruise  :    Sicilia! Italy in the Superlative,  Malta: Capers and Caravaggio,  Corfu the green cosmopolitan island,  Venice the Pearl of the Lagoon
We  visited 20  different  ports  including  Barcelona, St. Tropez, Nice, Portofino, Livorno, Civitavecchia, Sorrento, Amalfi, Taormina, La Valleta, Kotor, Corfu, Dubrovnik, Venice, Zadar, Hvar, Kotor, Korcula and Koper  .
Here are some photos  of the delightful places and people we encountered.
April 2-April 25, 2017 
Azamara Quest  from Miami, Florida  to Civitavecchia  
two different cruises   and  11 enrichment lectures
We sailed from   hot, sticky  Miami, Florida   and after  7 days at sea arrived in the Azores. I presented   3 specially prepared talks for the Transatlantic crossing which were very well received by guests and crew members: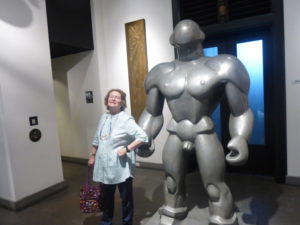 European Lifestyle: Markets and Shopping in European ports, 
European Lifestyle: Best House Museums in Europe 
European Lifestyle: A Year of Festivals, celebrating life from Carnival to Christmas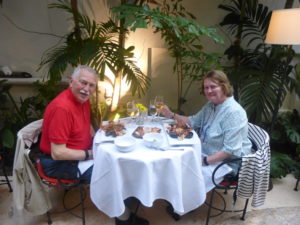 Two more sea days  and then we docked in Huevla (Spain), Gibraltar, Tangier (Morocco), then at sea again on Easter Sunday, followed by two days in Barcelona.
From Barcelona the second section of the cruise was  for 7 nights across the Western Mediterranean with stops at a windy Palma De Mallorca, Ajaccio (Corsica) to visit Napolone's birthplace, Monte Carlo, Livorno for two days and then  to Civitavecchia  (Rome's port) and the local blue bus  home in Vetralla.
*************
Here is a photo gallery of some of the highlights of the  wonderful month of April abroad.
September  16-30  2016
Azamara Journey  back to back cruises Venice to Civitavecchia Eight Enrichment Lectures on two different cruises.
Here is a photo gallery with some of the people we met.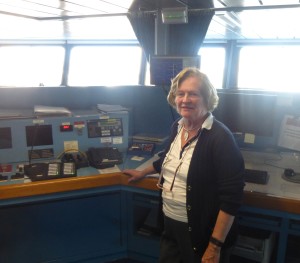 May 24-June 4 2016
 Azamara Journey  Spring cruise from Venice to Athens
Commentary from the bridge  for Venice Sailaway  plus 5 enrichment talks  about ports visited:
Dubrovnik,  Chania, Rhodes, Athens, Kushadasi.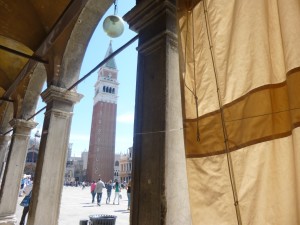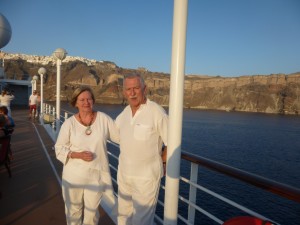 October  11-19  2015        Azamara Quest  7 days  Autumn cruise from Nice, France  to Athens, Greece.
Autumn cruise  Click here to read all about this  cruise where I gave 5 enrichment talks
April-May  2015                                          Istanbul to Civitavecchia Azamara Quest 
For 23 days aboard Azamara Quest for a charter with 600+ Australians.
The itinerary  was planned around the commemoration of  the ANZAC  battles at Gallipoli  during WWI.
Ports included Ephesus, Rhodes, Paphos  (Cyprus), Ashdod /Jerusalem, Santorini, Delos, Mykonos, Pireaeus/Athens, Corfu,Kotor, Dubrovnik, Korcula, Split, Venice, Valletta, Siracusa and  Sorrento
The illustrated  enrichment lectures, usually to a full  theatre, included
Epheseus, the Other Eternal City
The Mysterious Etruscans
Corfu: Island Retreat of Royalty
Mykonos, Santorini and Crete:  connecting islands  of Mediterranean History
October-November  2014 
Rome-Sicily-Malta   and  Rome to Malaga  were the two back to back cruises of the season, after  an August  cruise  from Rome to Istanbul.
For the autumn cruises on Azamara Journey   we visited the ports of  Sorrento, Catania, Siracusa, La Valletta (Malta), Porto Empedocle and then to Livorno  (instead of Bastia, Corsica)  to avoid turbulent seas.
After a turn around in  Civitavecchia  we returned  again to Livorno then  to Monte Carlo and  Marseilles, followed by  the Spanish ports of  Barcelona, Palma De Mallorca and  Valencia before  a stop in Gibraltar  and two days in Malaga, Spain.
My illustrated talks held in the Cabaret Lounge included:
Epheseus, the Other Eternal City
The Mysterious Etruscans
Corfu: Island Retreat of Royalty
Mykonos, Santorini and Crete:  connecting islands  of Mediterranean History
Sicily-a Triangle of Treasures
Malta-Capers and Caravaggio
Corsica: Island home of the Extraordinary Bonapartes
Barcelona: Gothic to Gaudi and Beyond
The Pleasures of Palma and  Gibralatar: Key to the Mediterranean
June-July 2013:
Baltics and St. Petersburg cruise aboard  Adventure of the Seas.
We visited  the cities of Southampton, Oslo, Copenhagen, Tallin, Helsinki, St. Petersburg and Brugges.  During the summer  I will post  tips for visiting these cities on my blog   50yearsinItaly. Don't miss  out on future  posts: subscribe  to the blog by leaving your email at the bottom of the page.
My illustrated lectures, held in the gigantic  Lyric Theatre which seats  1,200, included:
Irish, Scots and English..working  for the Tsars
The beautiful canal cities: St. Petersburg, Bruges and Venice
Italian  architects  who built St. Petersburg
Highlights of the Hermitage
Copenhagen: ancient royalty and modern design
How Now, Moscow? Life in Perestroika  Russia
September and October 2012 –  Series of illustrated lectures  for  Azamara Club Cruises  sailing from Barcelona and Monte Carlo visiting ports of St. Tropez, Portofino, Portovenere, Livorno, Sorrento, Amalfi, Taormina, Capri, Palma de Mallorca, Bonifacio (Corsica), Portoferraio (Elba) and Nice
For more about this itinerary see this post
For more information about Elba and the Bonaparte family  see this story.
April and June 2011 – illustrated lectures aboard Azamara Club Cruises  visiting the ports of Athens, Santorini, Valletta (Malta), Taormina, Sorrento Messina, Kusadasi (Turkey),  Rhodes, Chania (Crete), Istanbul and Naples
For more on Istanbul and its connections to Rome  see this story
( click  on the photos  to enlarge )
May, June and July 2011– Illustrated lectures aboard  Mariner of the Seas  visiting  Athens, Rhodes,  Ephesus, Crete, Istanbul, Naples and  Capri
 To study up on Greece before your cruise  I can recommend  Matt's  fantastic, information packed website   www.greecetravel.com
September and  October  2010 – Series of illustrated lectures aboard  Azamara visiting   Venice, Koper, Split, Corfu, Malta, Taormina and  Sorrento
For some of my personal moneysaving tips  for your Mediterranean cruise  click here
May 2010  Lecture Series aboard Navigator of the Seas  from Civitavecchia  to Alexandria, Egypt with stops in  Rhodes,  Epheseus and  Sicily
August  2009 Lecture Series aboard Silver Wind cruising the Black Sea from Istanbul to the former USSR
Three Ports, three countries : Trabzon, Batumi  and Sochi
The Crimean Riviera-highlights of Yalta, Sevastopol and Odessa
Istanbul-mosques, minarets and majolica
How Now, Moscow?-Daily Life in Perestroika Russia  1987-90
Want to find cool, romantic waters  near Civitavecchia, Viterbo and Vetralla  ? Read this story  and here  for  the scenic route linking Civitavecchia to Rome.
If you found these  links helpful  please leave a comment.
Don't miss  out on future  posts: subscribe  to the blog by leaving your email at the bottom of the page.
July 2009 Lecture series aboard Silver Wind cruising from  Monte Carlo and Taormina
Sicily – A Triangle of  Treasures  
Palermo –  A Layer Cake  of Cultures- architectural highlights
Coastal Paradise  –  Lifestyles along the Amalfi Coast
The Mysterious Etruscans  -A day ashore in Civitavecchia
June  2009  Aboard the Celebrity Solstice cruising from Civitavecchia to Istanbul
The Etruscan Connection – similarities between Greece and Italy
Ephesus- the other Eternal City
Introducing  Istanbul: mosques, minarets and majolica
Santorini & Mykonos- the Italian connection
2008
May  sailing on Princess  from Venice with visits to Dubrovnik, Corfu, Katakalon, Pireus, Mykonos, Kusadasi, Rhodes, Santorini, Naples and  Civitavecchia
Learn more about what to do when in Civitavecchia  here 
June sailing on Princess from Southampton with stops in Cadiz, Barcelona, Monte Carlo, Livorno, Civitavecchia, Alghero, Palma de Mallorca.
September  sailing from Venice   with visits to the ports of Dubrovnik,  Kusadasi, Santorini, Corfu