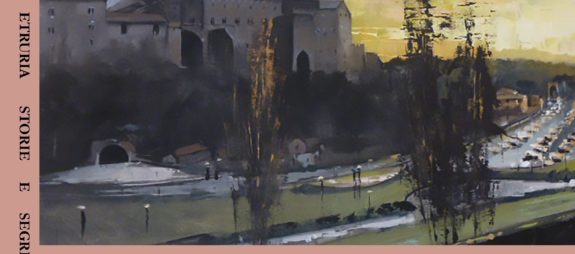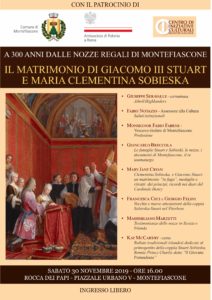 Meet the  author – encounters with Mary Jane Cryan
Conference and  book presentations
Saturday  November  30  at  4 p.m.  conference  in memory of the 300th  anniversary of the Royal Wedding  between James Stuart and Maria Clementina Sobieska.  Venue:  Rocca Papale, Montefiascone. Among the speakers  Mary Jane Cryan, author of "Travels to Tuscany and Northern Lazio" (2004)  based on the diaries of Cardinal Henry Stuart.
"Etruria Storie e Segreti" (Etruria Editions, Edizioni Archeoares) first published  in 2013  and now out of print,   has a new enriched edition  with maps, lists of  historic buildings, castles and gardens to  visit  in the Tuscia Viterbese.
This is the  tenth  publication that  the  Irish-American  writer, resident in Italy   for  over  a half a century,  has dedicated to that fascinating area of Italy known as Etruria, Tuscia  or Northern Lazio.  Book presentations will take place on Saturday, December 7th at the Museum  of the City and Territory  in Vetralla  and  again on Saturday  December  14  at  the Council Hall in Capranica's  city hall at  4 p.m. In honor of the creativity of the Tuscia/Etruria  area, most of the  photography and art work  are by  local artists .
MONTEFIASCONE  30 NOVEMBRE, 2019      CONVEGNO  SUL MATRIMONIO   STUART SOBIESKA        ORE  16   ROCCA DEI PAPI
^^^^^^^^^^^^^^^^^^^^^^^^^^^^^^^^^^^^^^^^^^^^^^^^^^^^^^^^^^^^^^^^^^^^^^^^^^^^^^^^^^^^^^^^^^^^^^^^^^^^^^^^^^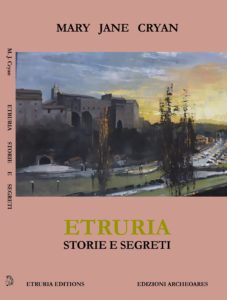 PRESENTAZIONI   DEL NUOVO LIBRO 
SABATO 7 DICEMBRE, 2019  MUSEO  DELLA CITTA E DEL TERRITORIO, VETRALLA, ORE  16
SABATO     14 DICEMBRE 2019  SALA CONSILIARE, COMUNE DI CAPRANICA, CAPRANICA, ORE  16
(spostata a febbraio data  da  decidere)
SABATO    25 GENNAIO 2020  ARTE E BENESSERE, BOMARZO, via del Piano  13,  ore  15:30