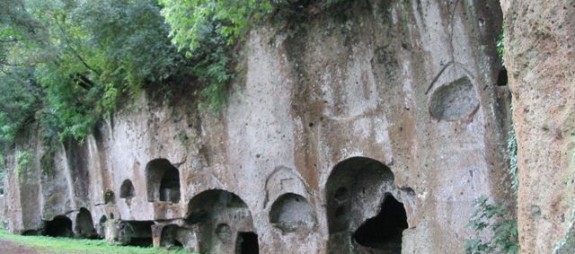 Italy is a layer cake of history and this is even more true in our area north of Rome known as Etruria, Tuscia or the Viterbese. Follow these itineraries or have us design one for you.
Etruscan Explorations 
The mysterious, smiling Etruscans built a series of cities, founded leagues, painted frescoed tombs and lived the good life here in Tuscia (northern Lazio) over 2,700 years ago.
Absolute musts are a visit  to the Etruscan museum and necropolis at Tarquinia with its unique painted tombs and  the Banditaccia necropolis  near Cerveteri noted for its tumuli.
The area abounds in  Etruscan and Roman sites: Vulci's bridge and museum, Tuscania, Viterbo's museum with its  wealth of artifacts found in the tombs. For trekkers there are  rock carved cliff tombs at Norchia, Grotta Porcina, Castel d'Asso and San Giuliano near Blera. Easily visited sites just 50 kms north of Rome include Sutri's mysterious amphiteatre.
Roman Rambles  
Walk on stretches of ancient Roman roads: the Via Clodia, Via Amerina and via Cassia. During the summer season there are plays, operas and concerts at Ferento, a Roman theatre in the countryside near Viterbo. Walk through ancient Roman cities like Falerii Novi, Volsinii at Bolsena  and Ostia Antica near Rome's airport. Take a dip in the hot pools  (Le Masse di San Sisto) near Vetralla  or Stigliano (near Tolfa)  where Roman soldiers once cured their wounds.
Medieval Hill Towns
Europe's best preserved medieval quarter  is Viterbo's  San  Pellegrino, where the first conclave was held in the Papal Palace in 13th century.  The quiet historic centers of Vitorchiano, Barbarano Romano , Civita di Bagnoregio and Tuscania are untouched by time.  On the opposite  side of the Tiber in the Sabina area visit Otricoli and Casperia , a car-free hamlet.  Every hill top town has a fortress, tower or castle to visit.
 Renaissance Splendors
Visit the splendid palaces and gardens of Palazzo Farnese in Caprarola, Villa Lante in Bagnaia, Palazzo Ruspoli in Vignanello, S. Martino al Cimino with its oval town plan, Bracciano's  Orsini-Odescalchi  castle, Bomarzo's Sacred Wood or Monster Park. Every town has several churches, palaces with frescoes and architectural details  to admire. Check  the blog 50yearsinItaly  and our books  for  more information on these sites and others.