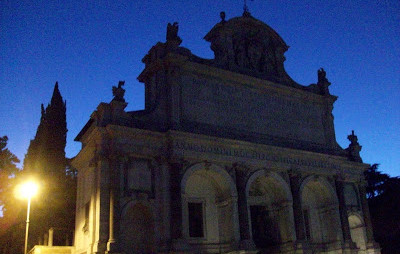 Thanks to the recent film "The Great Beauty"  the  viewing spot on the Janiculum hill overlooking Rome  has become well known.   But what about the lesser known  viewing spots, where you can have an aperitivo overlooking the city lights, or take a romantic walk at sunset without the tourist crowds ?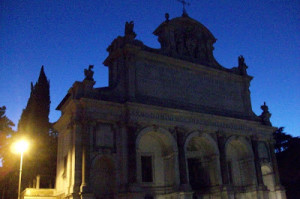 Since Rome is the city of seven hills (and more) there are some excellent panoramic  viewing spots.  Painters of the past have immortalized  the views from  Sant'Onofrio , the  Janiculum , Villa Barberini, Villa Medici and Il Pincio .
My artist friend Justin Bradshaw recently sent me this photo of Mt. Soratte  (about  30 kms. away ) seen from the Quirinale Palace in downtown Rome… proving that artists  are still  very interested in landscape, views and  capturing the essence of the Eternal City and  the surrounding countryside  of Lazio.
Click  on the photo to enlarge.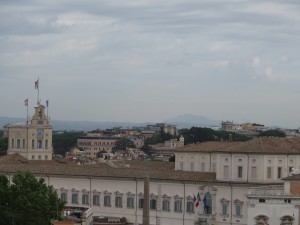 Pilgrims arriving from the north  were overwhelmed when they caught their first view of St. Peter's dome from Monte Mario.
Let me share  here my  favorite spots, discovered in these  50 years living in and writing about the Eternal City .   
Lo Zodiaco -set at the end of a narrow road  atop Monte Mario, this  bar, restaurant and  lovers walk with  views over Prati area and the Vatican  has been a favorite of couples for over  50 years. Located within Parco Mellini not too far from the  massive Hilton Hotel (now Waldorf Astoria)  it shares  the green hillside with the historic Rome  observatory used as prime meridian  for centuries until this honor was given to England's  Greenwich observatory .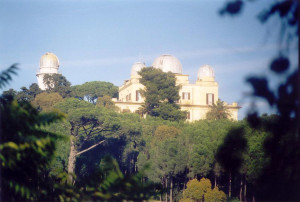 2. Aventine hill  has several parks with  panoramas of Rome: one is  near San Anselmo's church and  another  is the  spot of the famous  keyhole  view  from the gate of the Sovereign Military Order of Malta .
3. Roseto Comunale- the city Rose Garden, perfect place for a late afternoon wander, especially in May and June. The view includes Circus Maximus, the Domus Aurea and Palatine hill .
4. St. Peter's  church roof  is not as  high as a Roman hilltop but does  offer views back over the city and far away to the Castelli Romani.
5.Il Pincio- Linger on the Pincio, just above Piazza del Popolo,  at  sunset  time and you can catch the sun as it descends behind the cupola Michelangelo designed for St. Peter's .