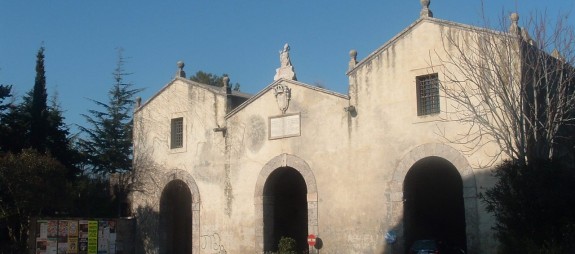 Can't decide  whether to take your holidays in Tuscany or Spain? You can have it both ways in this corner of Tuscany that was once  a little bit of Spain.
Porto San to Stefano, Porto Ercole and Orbetello are three towns on the Monte Argentario peninsula which conserve reminders of their 150 years (1557-1707) as a Spanish enclave or  presidios.
Epigraphs and funerary monuments  in the churches record governors and soldiers who died here far from their homeland, Spanish family names abound and  local speech includes  dozens of  archaic Spanish words.
More visible testimonies are the  majestic doorway and city walls of Orbetello and  fortress-castles constructed by military architects. Surrounding the yacht harbors of Porto Ercole and Cala Galera are Forte Filippo, named for the warrior king, Forte Stella with  its star design and  la Rocca overlooking  the beach where Caravaggio died. The Fortezza of Porto Santo Stefano and the Polveriera Guzman in Orbetello have both recently been adapted from their former military uses to become local history museums.
Several 17th century palaces built by the military rulers  have been restored and one lone windmill, the last of a long line, still stands forlornly in the lagoon, similar to those of Don Quixote's la Mancha.