Learn
insider tips and travel information
Find
special places to stay in Central Italy
Discover
the area's history in selected books
Welcome to my website which is one of the fruits of 50 years of living in Italy. Here you will find  background information, itineraries and insight into Italian history, anthropology, antiques and  culture.
There are many stories and curiosities gathered  during decades of  Roman life, and  also many  interesting sites waiting to be explored and enjoyed in the Etruria/Tuscia area  of Northern Lazio  near Umbria and Tuscany.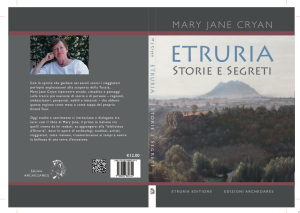 To learn more about this area,  order  copies of Etruria Editions' books which are published and printed locally and mailed  worldwide.  In Italy  purchase copies from local bookshops or at  our recommended  B&B and Agritourism places- some located in  castles and  medieval towers  in  central Italy.
Don't forget to sign up to receive  weekly articles  on the blog "50 years in Italy" .