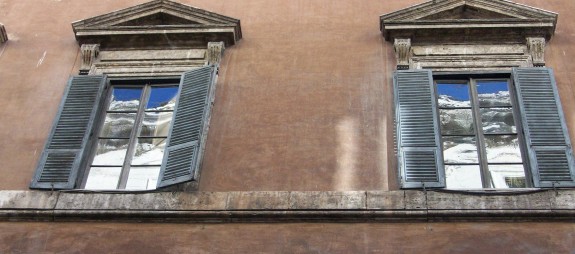 What  better guide to Rome  than  the English writers  who lived here  in the past?
Follow their itineraries  through the  Eternal City and find out what it was like to live  behind the  wavy glass windows  of a palazzo  in the  English ghetto area between Via del Corso, Via Babuino and the Spanish Steps.
Some of them stayed  in convents and pensioni  and enjoyed  inexpensive meals  cooked  with copper pans like these  we admired  in  a convent kitchen  in Trastevere.
In the 1980s hundreds of  my American  students  lived  there for about $49  a day. They had to share bathrooms and learn how to dress with several layers of wool for it was barely heated. To warm up they sat in the sun filled courtyard and walked for hours exploring Rome and its treasures… storing  up memories  to last a lifetime.
It is now a  5 star luxury hotel, the  pots and pans  no longer shine on the walls…and students can no longer afford to stay there.  If you are interested, ask me about  similar  convent residences (with modern heating !) for inexpensive stays in Italy.
For less expensive places to live and study in Italy  try the area north of Rome, especially Viterbo .