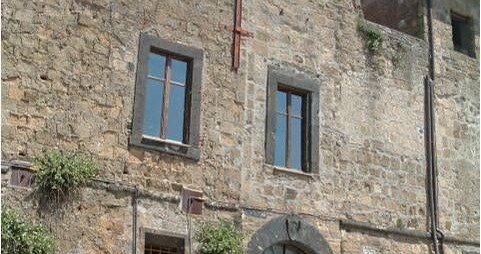 An Irish Family in Italy: the Denhams of Northern Lazio
The small towns of Onano, Proceno and Centeno in northern Lazio are enjoying sudden popularity with foreign visitors looking for genuine Italian lifestyle. Guests at castle accommodations and farmhouse agriturismi, including Camilla, Duchess of Cornwall, will be surprised to learn that these tiny hilltop towns were once fiefs of an Irish family. A cache of letters conserved at a Liverpool museum together with local Italian archival material have brought to light the saga of J. Denham who became master of lands, castles and custom houses in this quiet corner on the Tuscan- Lazio border.
In order to escape debtors' prison Denham accepted a commission in Lord Blaney's Regiment and set sail in 1762 for Lisbon. He left behind his bride Sukey, who was on the Duchess of Beaufort's domestic staff at Badminton Court near Bristol. By July 1763 Ensign Denham had traded military life for employment with the Earle company that shipped wine, coffee, hides and white marble from Genoa , Italy to English ports.
Personal letters to Sukey and his employer's wife tell how Denham studied Italian, translated bits of Tasso's poetry and had difficulties understanding the Genoese accent. His descriptions of Italian life include a masquerade ball at Doria Palace in honor of the Hanoverian Duke of York and the release of English slaves that had been captured by Barbery pirates .
Denham had his portrait painted and sent it to his wife but since half his pay was also sent to her, he had to give up opera and a box at the theatre until 1764 when he became agent in Livorno and enjoyed a yearly income of £40 and 2 servants. From his new post he wrote about an earthquake in January 1767 and how the locals counteracted the heat by bathing in rented copper baths.
The long awaited parnership in the firm arrived in 1768 giving him ¾ of profits from business at Civita Vecchia in the Papal States. This busy port filled with English ships was without a proper British Consul and Denham promptly asked his wife to encourage Lord Beaufort to recommend him for the position. He sent Sukey chests full of gifts by the company's ships and promised he would soon send for her. He also explained that the name Joseph, which he decided to keep, was due to a mistake on the passport he received from the British Ambassador in Genoa.
In 1769 Denham's ship "Victory", carrying a load of Dutch canvas for the Papal government, was shipwrecked while docking at the port of Civitavecchia. Three years of legal battles followed with the Irishman accusing Papal port authorities for the shipwreck due to the poor condition of the port. Denham came out winner and in compensation for his losses was given a perpetual concession (enfiteusi) over the extensive lands of Onano, Proceno and Centeno for himself and his legitimate male descendents.
In the meantime his personal life had changed. In a note dated April 1771 he confessed that he was "not intentionally wicked" but that supposing Sukey had died, had taken up with an Italian lady in Livorno whom he married after receiving a di Papal dispensation. The identity of this Livornese wife, mother of two or three Denham offspring, is still to be uncovered.
The rolling hills on the border between Tuscany and the Papal States were Italy's "bread basket" producing grain and other crops that were shipped from Civitavecchia to Rome, Liguria, France and England. The Denhams had obtained all rights to the very profitable grain crops as well as tolls taken at the Post of Centeno in exchange for a yearly rent of 500 scudi . The papal governement also expected that they encourage commerce and modern agricultural methods.
In his letters Denham bragged about how happy the local population were with his style of governing and how he was a trusted member of the Papal States' administration, often participating in church ceremonies in Rome. Among the benefits the family brought to the towns under their care were the introduction of looms for cloth making, the establishment of a girls' school, road improvement and the paintings and decorations of the castles's main salons. The lively maritime and village scenes decorating the walls of the Onano municipal offices show crowded boats, villages with steep-roofed houses, windmills and dockside scenes that narrate chapters in the Denham family saga.
However a local historian Padre Epifanio writing in 1803 says that Giuseppe Denham lorded it over the population, denying the community's ancient rights to pasture and gathering of firewood, even accusing the Irishman of destroying marble statues which decorating the castle.
Before her death in 1780, a last note from estranged wife Sukey mentions how his "ambition had killed all tender feelings", but that she wished to see him once more.
Not content with the enfiteusi, Denham purchased other farmlands accumulating debts later paid off by his daughters . By the year 1801 Denham and his sons had passed away and the lands were to be returned to the Papal government. Carlotta Denham, married to French doctor Antonio Bousquet was able to obtain the renewal of the concession for herself and her male descendents.
Much beloved by the local population, red-headed Madama Carlotta's castle in Onano, is still known as Palazzo Madama. Two of Carlotta's sons took part in the Risorgimento and the Denham-Bousquet family continued in their "lordship" over the area until it became part of united Italy in 1860.
Similar stories of foreigners in central Italy through history  in "Etruria, travel,history and itineraries in central Italy"  which can be ordered directly  from this website's Books page.